2022 Defender in Oklahoma City

2022 Land Rover Defender at Land Rover Oklahoma City
For drivers looking for an extreme outdoor adventure, the 2022 Defender is the travel companion to select. Harkening back to the days of the Range Rovers of the 50s, the Defender is rugged and durable while also meeting your needs for creature comforts. Your choices for the 90 include the Defender 90, 90 S, X-Dynamic S, X-Dynamic SE, X-Dynamic HSE, 90 X, 90 V8, and the 90 V8 Carpathian Edition. You also have the same options in the 110 size. If that long list of models sounded complicated, wait until you dig deeper into the features and options available on these fantastic exploration machines. To experience the Defender in person, visit Land Rover Oklahoma City. You could be returning home to Dallas or Tulsa in the most capable SUV on the planet.
Undeniable Capability
The Defender is genuinely propose built for exploring the roughest environments you can find. The two-door model is tagged as the 90, while the larger 4-door version is the 110. There are three engine options: a turbocharged four-cylinder, a turbo and supercharged six-cylinder, and a supercharged V8. The supercharged V8 is the new choice for the 2022 model year. The base four-cylinder delivers 296 horsepower, while the opposite end of the spectrum is the V8 that puts down an awe-inspiring 518 horsepower. As you might expect, all of these vehicles are equipped with four-wheel drive and automatic transmissions.
Rugged Style
The Defender is very much a current version of the early off-road offerings of Range Rover. The lines are bold and straightforward. At first glance, you might expect this to be a more Spartan vehicle on the inside as it looks like an old body shape, but that is far from the case. The large body is simply necessary to afford the space and comfort expected of a Range Rover.
Current Tech
When you open the Defender door, you are reminded that its classic exterior is only a replica of the original exploration vehicles. You are greeted by a 10-inch touchscreen infotainment command center complete with Pivi Pro. If you choose the upgraded screen, it will measure 11.4 inches. Standard tech includes Apple CarPlay and Android Auto, an onboard Wi-Fi hotspot, and navigation. For an even more high-tech look, you can replace the gauge cluster with a digital one and include a heads-up display. The driver-assist and safety tech options include adaptive cruise control, automated emergency braking, blind spot monitoring, a driver attention monitor, and forward-collision warning to name a few of the features.
Functional Luxury
While there are many more rustic elements in the interior, it is all about design. The theme is ruggedness. But the creature comforts are still there behind the more masculine décor. Exposed rivets on the doors and more exposed metal fit the image of this off-road vehicle. However, you will still enjoy 8-way adjustable heated seats, leather steering wheel and gear shift, a premium sound system, and optional natural wood veneer.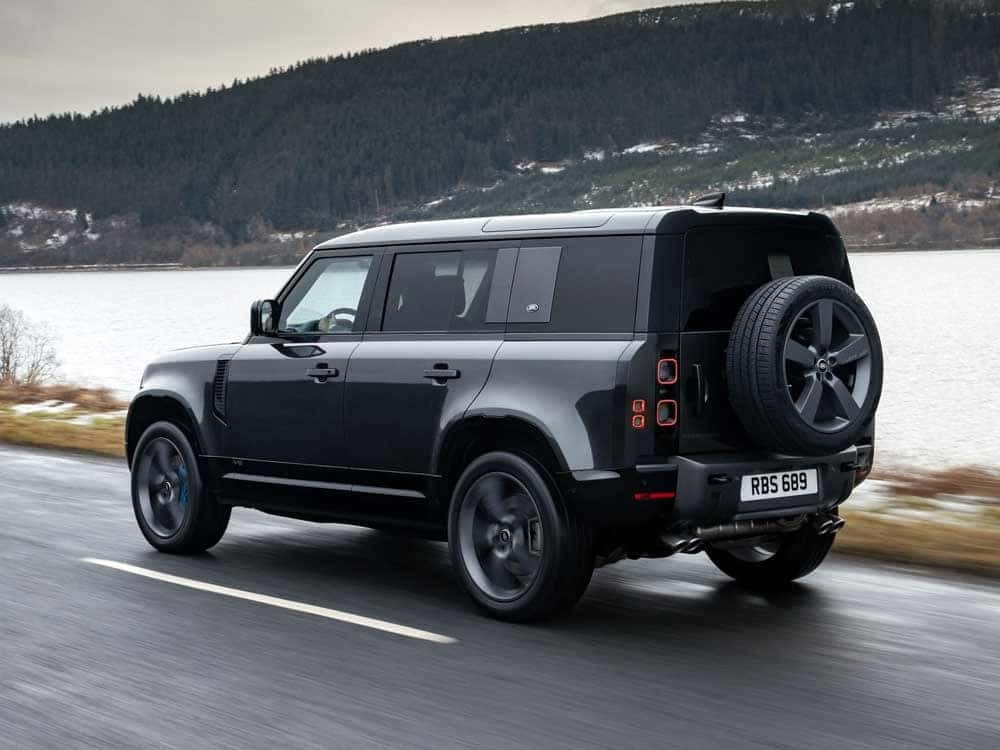 2022 Defender Design & Features
Combining with the classic capable and rugged look for the 2022 Land Rover Defender is modern elegance, convenience, and comfort. This SUV has it all for every kind of driver and passenger. You can learn more about it at Land Rover Oklahoma City.
A Commanding Presence
With a bold look that showcases the rugged capability of the 2022 Land Rover Defender, this SUV is also modern with advanced technology and supreme comfort. You have the option of either a two-door in the 90 or four-door with the 110 model. New for this model year is the body-on-frame design, which replaces the old axles with a suspension system that is completely independent.
Impressive Power
You can choose from three engines for the 2022 Defender with a four-cylinder, supercharged turbo six-cylinder, and a supercharged V8. The 5.0L V8 engine is an addition for this model year with 518 horsepower. Four-wheel drive is standard with all three engines. Don't forget to add locking differentials and an adjustable air suspension for enhanced capability. Take on more challenges of the road or when going off-road with 11.5 inches of ground clearance while fording through water up to 35 inches.
Where Practical Meets Premium
One of the unique aspects of the 2022 Defender is the way it can walk the line between being practical and offering premium luxury. Details add a rugged touch inside while modern technology ensures you always stay connected. Rear seats can fold down for more cargo space if you need to bring along more gear or supplies.
Pivi Pro is the new interface for the 2022 Defender and all Land Rover models. This system includes a 10-inch touchscreen in the SUV with an upgrade available for up to 11.4 inches. You'll appreciate the quick response time and software updates over the air. Connect your smartphone to the vehicle with Android Auto and Apple CarPlay while the navigation system helps you find your next destination. Standard on this model is a six-speaker stereo, but you can upgrade to a Meridian sound system with either 10 or 14 speakers. With the high-end trims, a head-up display projects information right onto your windshield.
When Safety is Standard
You can feel more confident going down those off-beaten paths and remote paths in the 2022 Land Rover Defender, knowing it comes loaded with advanced safety features. Automatic emergency braking with pedestrian detection is standard and takes quick action when a person steps into your path. Lane departure warning with lane-keeping assist is also standard to help you stay in the correct lane. You can also rely on adaptive cruise control to stay with the flow of traffic when you're traveling at a set speed. These are just a few of the safety systems you can count on when you're out on the road.
Get to know more about the 2022 Land Rover Defender when you take it out on a test drive. Stop by Land Rover Oklahoma City to find out how this SUV fits into your world.
Vehicle shown is for illustrative purposes only.
Vehicle in transit.
Vehicle shown is for illustrative purposes only.
Vehicle in transit.